Flamma Idola, Yousei Teikoku's 19th single, was released on May 31, 2017, commemorating the band's 20th anniversary.
Track Listing
Edit
flamma idola (Flaming Phantom (Latin))
天鵞絨パピリオ (Biroodo Papirio; Velvet Butterfly)
内観宇宙死者のゆりかご (Naikan Uchuu Shisha no Yurikago; Introspection of the Universe in the Cradle of the Dead)
flamma idola (Instrumental)
天鵞絨パピリオ (Instrumental)
内観宇宙死者のゆりかご (Instrumental)
Music Videos
Edit
"flamma idola"
Edit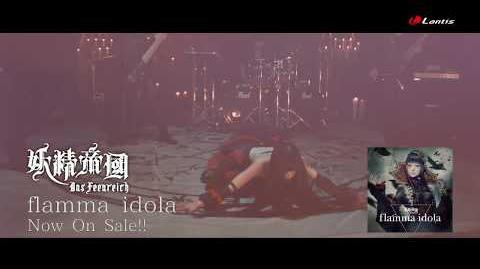 External Links
Edit
Ad blocker interference detected!
Wikia is a free-to-use site that makes money from advertising. We have a modified experience for viewers using ad blockers

Wikia is not accessible if you've made further modifications. Remove the custom ad blocker rule(s) and the page will load as expected.